Buffets are my thing. With all the tedious works that I do, I find it best to always end the week with a full body spa accompanied by a sumptuous (and big) dinner. While I was searching for a good buffet place, I chanced upon this restaurant co-owned by one of the best celebrity chefs in the country, no other than the famous Chef Boy Logro. I got really curious and since it's just in San Juan, I decided to give it a try.
First stop – PARKING. I was impressed that 7 flavours has a huge parking space and so finding a good spot for your car is not a problem.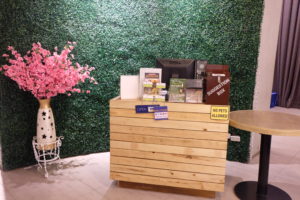 The entire area is pretty cool. It's a two-floor establishment filled with comfy chairs and tables and the overall aesthetic is simple and neat. The first floor area is designated for customers who want to order ala carte dishes such as cakes and shakes and those courses that aren't part of the buffet.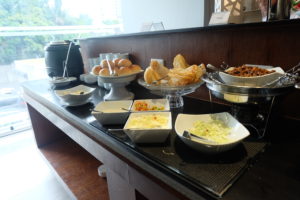 The buffet area is located at the second floor. Just like in any other buffet restaurants, the first thing to do is –  scan the food choices. It's not as grandiose as the other luxurious buffet spreads but I must say that the entire selection is decent and practical.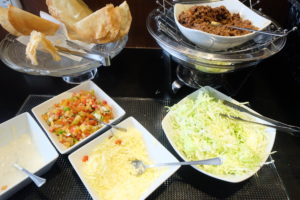 There is a salad bar and my (forever) favorite, taco area!
The Pinoy carte is really good. Kare kare is my personal fave and this plate didn't disappoint me!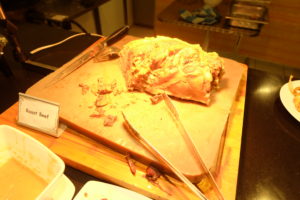 There is only 1 selection in the carving station but it's certainly the best choice.  The meat was perfectly cooked and well seasoned.
The Japanese food spot really looks delectable. I even used it in my 7 flavours GC giveaway (Check my Instagram for the mechanics)
I also like the dessert choices!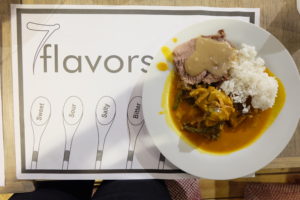 Overall, my 7 flavors experience is good. I can say that this is the perfect go-to place for families who want to experience good food and good service without that pain in the pocket. I guess I have to keep this place on my buffet list!
Check out their buffet rates here:
◦Monday-Thursday: Lunch – PhP 399.5 / Dinner – PhP 499.95
◦Friday-Sunday: Lunch and Dinner – PhP 599.95
196 A. Mabini Street, Addition Hills, San Juan
For inquiries, call (02) 5430325 or 0917-8281700, or email 7flavors.info@gmail.com