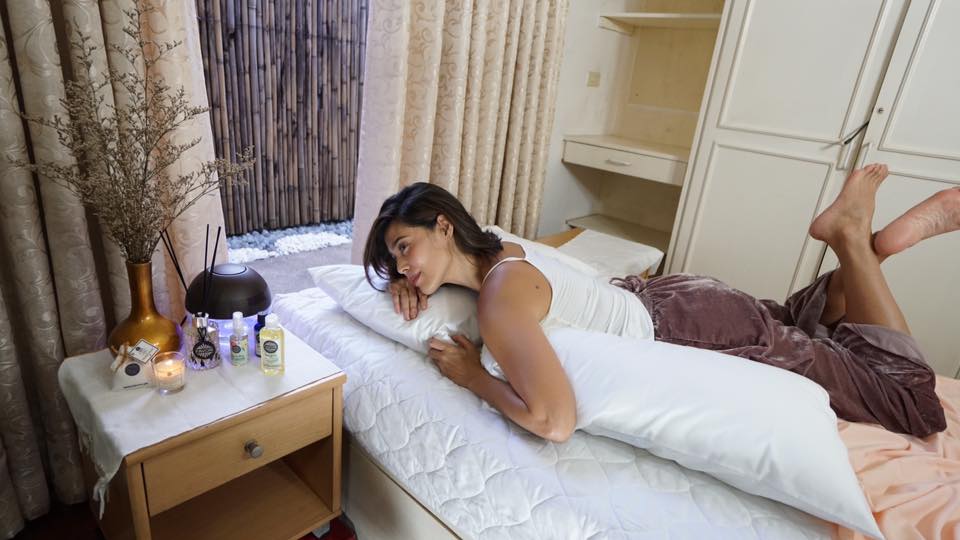 Create The Feeling of Love this Valentine's with FAVORI – (Plus join FAVORI's Instagram Contest)
Valentine's Day is just around the corner and I bet most of you are already thinking of a good gift for that special mate or probably for mom? But hey! I suggest you forego the standard rose bouquet and chocolate heart this year. With so many inventive ways to express your love for the special people around you, the goal is to present something that is both unique and essential.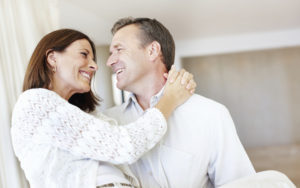 FAVORI – a name that is synonymous to words like sweetness and aroma (check out my previous FAVORI blog to know more about this brand) has always been one of the best home scent brands in the market today. From the very beginning, FAVORI understands how scents can become a strong stimuli to people's positive feelings. By only using top-notch ingredients imported from abroad, FAVORI creates quality aroma products with technical know-how and passion. This has been FAVORI's essentials in creating products that contribute to a person's physical and emotional well-being and this is basically the reason why it is a perfect Valentine's gift.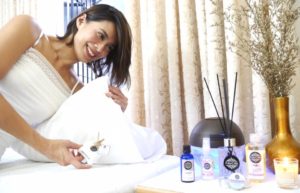 So now we know that there is a better alternative to our usual fancy gifts. Let love spread in the air (literally) with the gift of scent from FAVORI.
And just as things get a little bit sweeter, FAVORI has one last good news to share.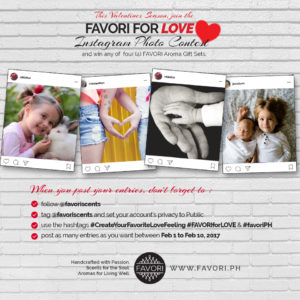 This February, FAVORI launches "FAVORI for LOVE", an Instagram photo contest. FAVORI is giving away one (1) Aroma Set each to four (4) lucky Instagram followers! They can join via Instagram post featuring a photo of any FAVORI product and sharing how FAVORI helps create their favorite "love feeling."
The contest's full mechanics are as follows:
The FAVORI for LOVE Instagram Photo Contest runs from February 1 to 10, 2017.
Followers of​ @favoriscents on Instagram are eligible to join the contest.
Eligible Instagram photo entries must meet the following requirements:

Posted within February 1 to 10, 2017;
Photo must contain a FAVORI product; and
Post must be accompanied by an answer to the question "How does FAVORI help create your favorite love feeling?" — may it be love for someone special, a particular passion or hobby, love for the outdoors or even your pet. Anything goes!
Poster must tag @favoriscents and use the hashtags #CreateYourFavoriteLoveFeeling #FAVORIforLOVE #favoriPH (Poster's account privacy must be set to Public).

Follower's can post as many entries as they want within the contest duration.
The four (4) winners will be chosen by @favoriscents, and announced on the FAVORI Instagram account. One winner will be posted each day from February 11 to 14, 2017.
Winners will also be notified thru direct message on their Instagram accounts.
So, let the love begin and create the perfect feeling of warmth, tenderness an compassion by joining FAVORI's Instagram drill!
For more information on FAVORI products, FOLLOW @favoriscents on Instagram and @favoriscents on Twitter, LIKE @favori.scents on Facebook, and VISIT their website at WWW.FAVORI.PH. FAVORI Scents are available at Robinson's Place Manila, SM Megamall, SM City Marikina, SM Southmall and Market! Market!
PS. Tag me on your IG entries so I can support you guys too!
Xo,