Do you love bath time and spa services as much as I do? Imagine having these two elements in one product? Real deal, right? Well, I'm glad to share with you that we actually have this product here in the Philippines. Introducing, The Cream Factory line of bath creams and scrubs!
The Cream Factory is the first and only dessert for the skin in the entire world that combines the creamy goodness of real Netherlands goat milk and 100% Active Botanical extracts sourced from around the world. No other brand of bath and body products offers a range in as many unique variants as the Cream Factory. Let me tell you more about the products and their benefits in another post ('cause this requires an intense product lecture + demo! Haha)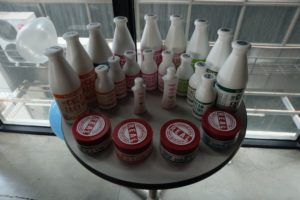 I am actually a TCF baby ever since. I remember the first time I saw those beautifully packaged bottles in Watsons, I immediately got hooked. Browsed through all the bottles piled on that rack and they all look nice and all the variants smell good! It was really love at first sniff! I remember getting a yogurt (pink) bath cream and totally fell in love with it.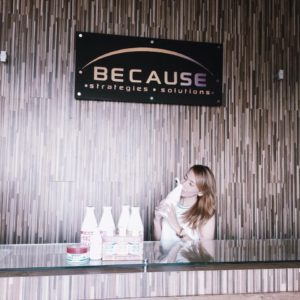 Now after a few years, I'm happy I got the chance to do a collaboration with The Cream Factory not just as a blogger-influencer but also as their event partner and host. Last June, I got the chance to meet Terry Scott (Because Inc. CEO), Tina Fuentes (Because Inc. COO), Ched Dayot (Product Manager) and the rest of The Cream Factory team. I shared with them how much I love their products and when they asked me if I want to organise an event with them, I immediately said yes!
The event concept is to gather a pioneer group of online influencers and bloggers who will serve as The Cream Factory ambassadors. Each member should promote The Cream Factory products and in return, they will get incentives. Now this program is open to all. Anyone who has a substantial following on Facebook, Instagram or Twitter can apply as a partner-influencer and once approved, they can already start promoting and earning (check The Cream Factory's Facebook page for more details)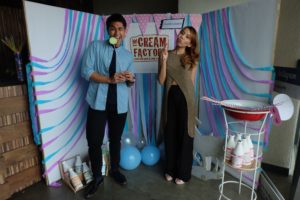 Hosting The Cream Factory's Influencers' Party is probably the best post-birthday treat ever. It's not just because I got to take home The Cream Factory products (though that already sounds like bagging the jackpot) but also because one, I had the chance to mingle with my fellow bloggers and two, I learned a lot about The Cream Factory products, the company (Because Inc.) and the opportunities in store for me. I also enjoyed the food and drinks (wine and cheese plus MORE) prepared for us!
Let me walk you through the stuff and the activities we did last June 11.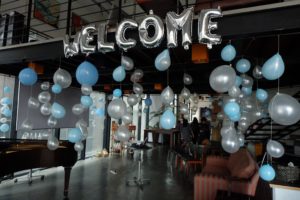 It's bath time! Love this beautiful set up done by The Cream Factory Team
This bike set with a basket full of flowers and TCF bath creams is so instagrammable!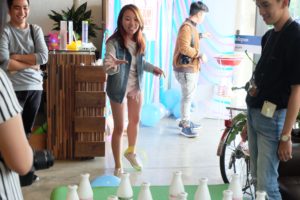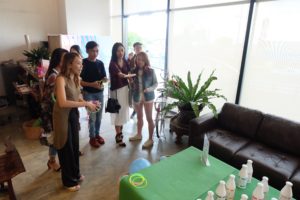 Bloggers playing the "Shoot the Ring" game! Winners took home Saforelle bottles.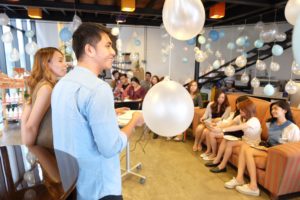 Me and my co-host Ryan Bulosan welcoming the guests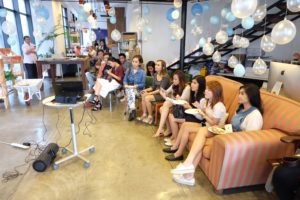 Bloggers and influencers enjoying the food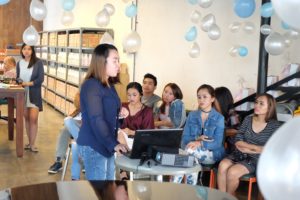 Ms. Ched Dayot explaining the uses and benefits of each The Cream Factory product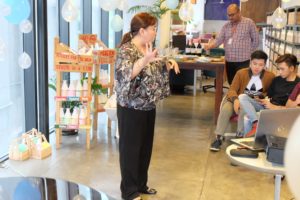 Ms. Tina Fuentes revealing the big surprise – the Bath Revolution Influencers' Program
Loot bags for everybody!
To check more event photos and happenings, check out the hashtag #bathrevolutionbloggersparty on Instagram.
Get your best bath experience with The Cream Factory PH's bath creams and scrubs! Join the #BathRevolution and change the way you think about baths! Get an additional 5% discount when you use my code "SH7855" on top of the 20% standard discount for every P1250 purchase at bathrevolution.club!