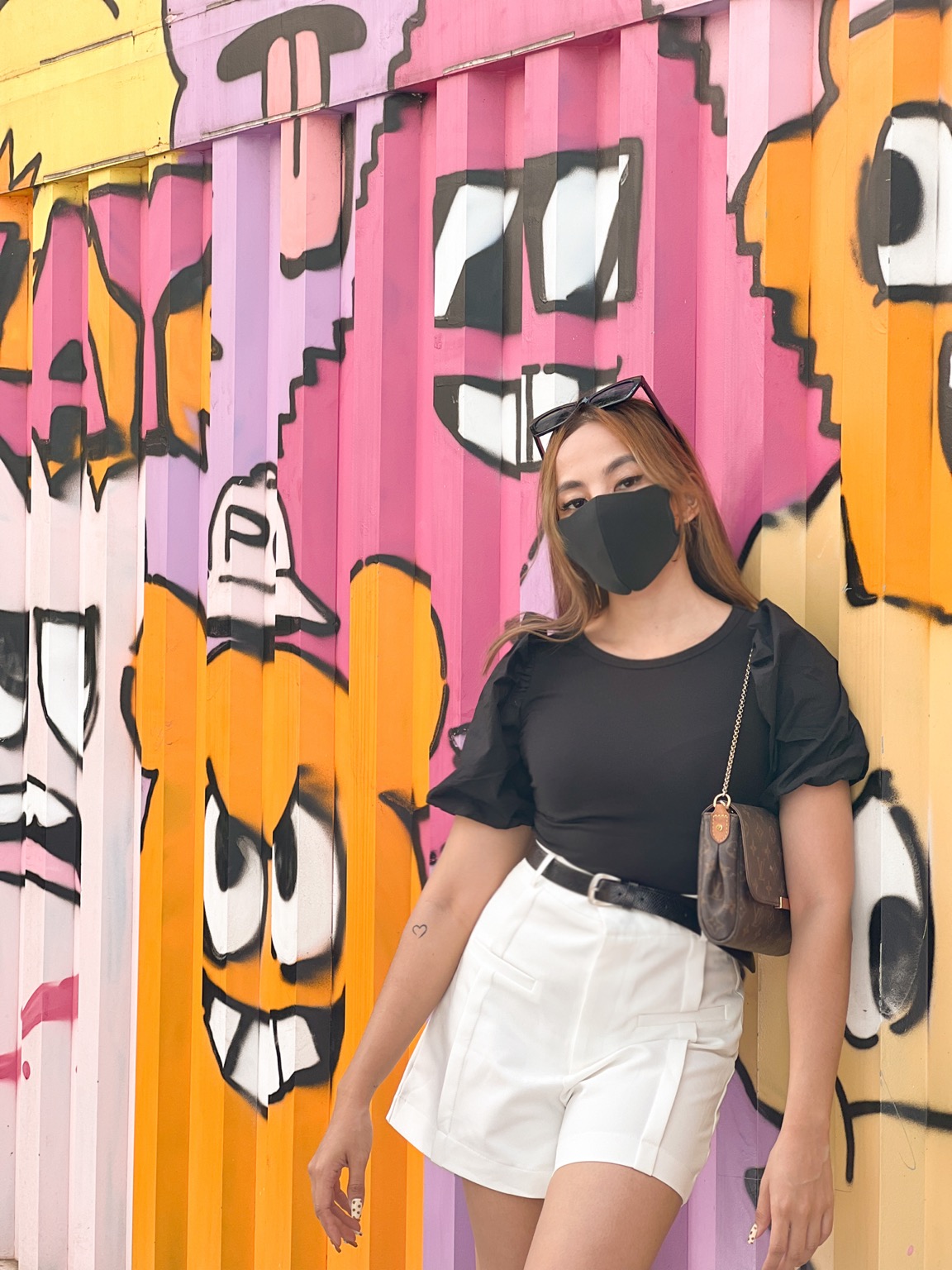 5 Side Gigs For You Plus More Ways To Save
In this day and age, having one job is usually not enough. While your day job might help you pay for the utilities and other essentials, a side hustle from home will definitely make a difference in your wallet. Besides, who couldn't use a little bit more of funds? Whether you are planning to treat yourself for a vacation or maybe hoping to get the car of your dreams, having extra gigs could surely be of great financial help.
So yup here are five of the best home-based side hustles that you can do to help you make more money.
1. Start a dropshipping business
Dropshipping is a retail fulfillment business in which a dropshipper doesn't keep the products it sells in stock. When a dropshipper sells a product, it purchases the item directly from a third party (a direct manufacturer, wholesaler, or another retailer) that ships the product directly to a customer. In short, dropshipping allows you to sell a product directly to the customer without having to buy any inventory.
This is a very low-risk business venture since you do not need to shell out a huge capital. Basically, you can just focus on building an online store, do some marketing and customer service and let your supplier fulfill the orders. If you have a strong marketing background and want a side hustle that plays to that strength of yours, this is a perfect fit.
2. Create stuff to sell
Why not turn your passion and arts into a business? You can create stationeries, household items, some crafts, printables and other unique gift items or you can bake and cook some delicacies and sell them online! You can even just use your own social media pages to do all of these things,
This is perfect for those people who are very entrepreneurial.
3. Be a digital creative
Assess yourself — what talents and skills do you have? Are you a creative? There are many ways to pursue creativity using only a computer like writing, graphic design or video editing. There are many online platforms that offer per project or per output gigs so you do not have to do it full time. At the same time, a lot of businesses now are looking for freelance creatives to help them with their marketing requirements.
You may also opt to monetize your digital designs independently, you may look into posting videos on YouTube or putting your designs and create your own set of merchandise.
4. Be a transcriber
You can use your quick and accurate typing skills as a transcriptionist. The job involves listening to audio, such as interviews, notes, and messages, and converting them into written documents. A lot of businesses these days want their audio files transcribed to generate closed captions or to use quotes from a speech or interview in an editorial feature.
5. Babysitting or petsitting
Do you love kids or dogs? Would you enjoy making some extra money babysitting or dogsitting during your spare time? There are a lot of parents and pet owners that need help and can pay a certain amount for this kind of service.
You see every opportunity is pretty much available to you online. You just have to look for the gig that matches your skills and schedule.
Now speaking of earning extra, it is also important that you also get to save and invest on the side. That's really the best way to manage your finances. Indeed, consistent investments over a number of years can be an effective strategy to accumulate wealth.
I've chanced upon this site called savingscalculator.org. This site has many calculator options but my favorite one is the calculator for investments.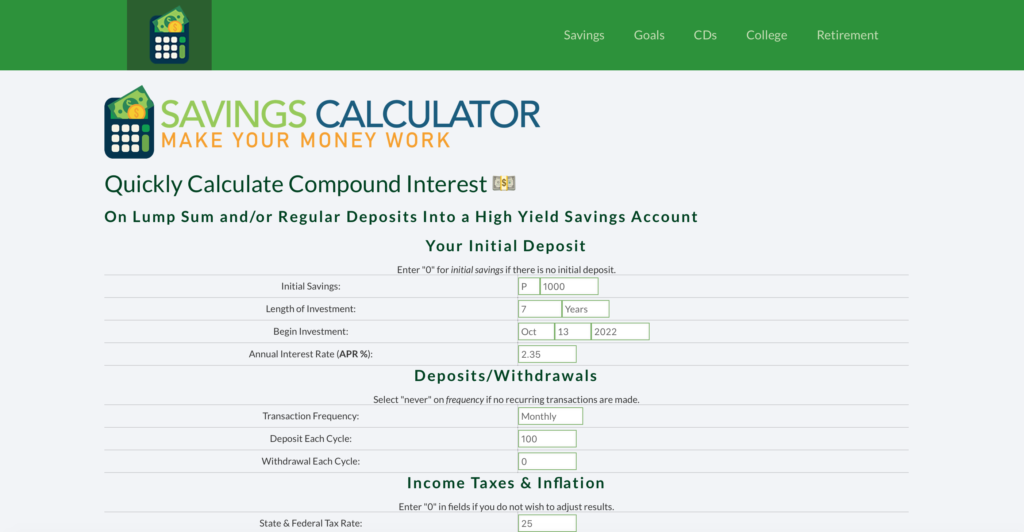 You can use this calculator to quickly figure out how much money you will have saved up during a set investment period. Initially, you just have to enter your initial amount you have set aside, then enter the interest rate along with how long you tend to invest for.
You can then enter the amount money you intend to deposit or withdraw periodically.
Once you have entered this information the calculator will inform you of how much money you will have saved up before income taxes, how much income tax you'll owe & what the remaining amount of money is worth in real terms after accounting for inflation.
Calculations update automatically when any input is changed.
They also have a savings goal calculator which basically helps you monitor your monthly savings and achieve your financial goals.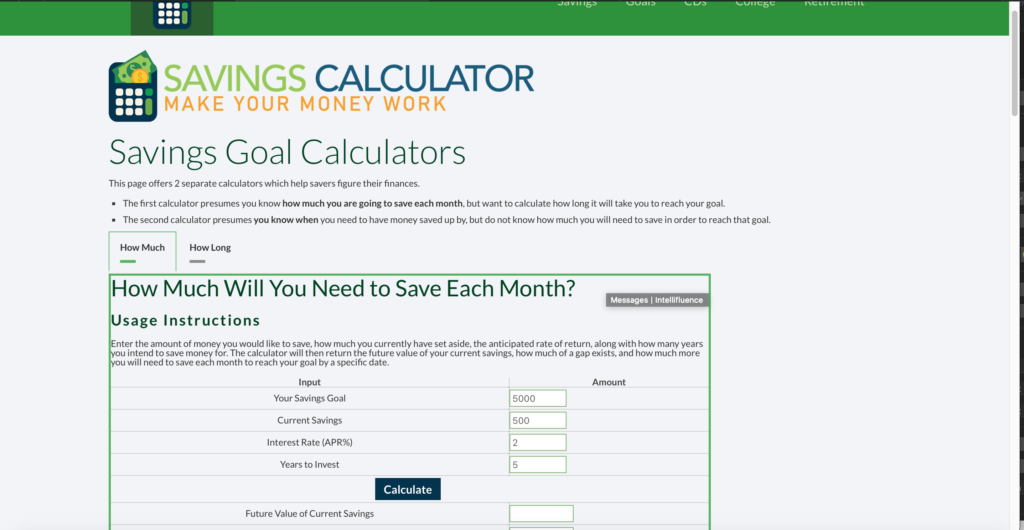 To know more about managing your savings and finances, visit https://www.savingscalculator.org