Celebrate #NationalPamperingDay with Nailaholics!
Finding new salons on my phone using a salons locator app, and going to nail salon and spa houses is one of my favourite ways to de-stress. I mean, who wouldn't want to relax in a nifty aromatic place, with some great peaceful vibes and comforting treatments that will lull you to a blissful sleep? Sounds like a perfect me-time, right?
This is why I always make sure that I have time for myself despite my super busy schedule.
Last Monday, I dropped by Nailaholics in SM Marikina to treat myself up for some foot spa and gel mani pedi. For those who do not know what this is, gel nail polish is a special varnish formula that is cured under ultraviolet lamps. Gel formulas last at least two weeks without chipping, making them much more practical than regular manicures. Similarly, the gels are thought to be gentler than other overlays, such as false tips and acrylics, which helps maintain strong and healthy natural nails.
I've been using this kind of polish for years now and I am literally a fan. I'm a sucker for nail colors and all my friends know that I change nail colors every two weeks (and I am so particular with nail chips!) Haha!
Anyway, Nailaholics is like a home to me. Perhaps no other nail salon in the country is better known for having perfected the art of a quick, urban pampering the way Nailaholics has. Their interiors are inviting, their service is efficient, and the promise of getting whisked away from realities of looming deadlines, to-do lists, traffic, and whatever else awaits outside the doors of this quaint Hamptons-themed escape, becomes possible—even if it's only for a few hours.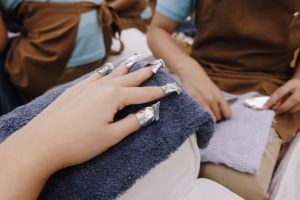 I had my previous gel polish removed first. Note: There is a special procedure in removing this type of polish (not with the usual acetone
+ cotton) and in most salons, it is charged differently.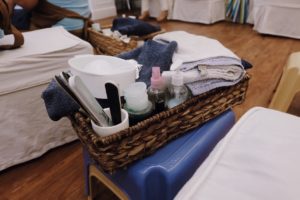 What I love most about nailaholics is that they have lots of polishes to choose from. You can go for the normal types of polish or splurge some bucks for the expensive ones. You also have the luxury of colors to choose from. I chose a brown matte color since I have an upcoming shoot and I want my dark nails to make a bold statement (Revealing the color on my IG: @shairahabon)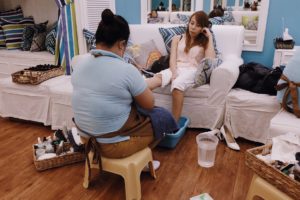 I also had my very relaxing foot spa and pedicure. My nail technician ended the session with a soothing hand and foot massage.
Now I know you also want to have the same treat! Budget is not a concern because on October 17 – from 10AM to 12 noon, you can head over to any Nailaholics branch nationwide and get a relaxing manicure and free hand massage for FREE. YES, you read it right! FREE MANICURE AND HAND MASSAGE on Monday next week as Nailaholics takes part in the country's first ever #National Pampering Day!
For more details,
Like and follow:
Nailaholics FB Page: Nailaholics Nail Salon and Spa
Nailaholics Instagram: @nailaholics
Nailaholics Instagram: Nail-a-holics