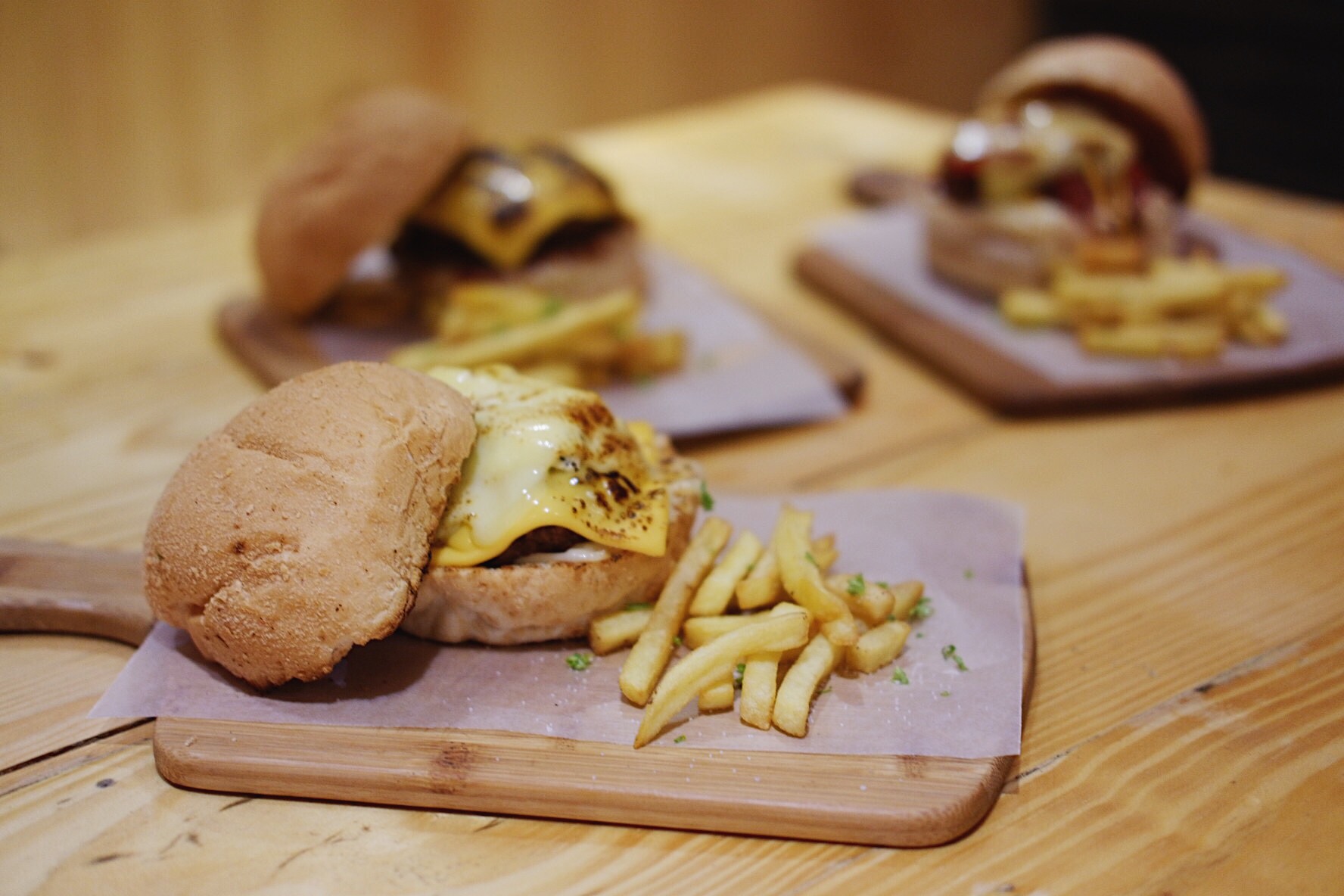 Get your Ultimate Comfort Food Fix at Flambé
They say you never say no to good food. I agree. Food is a staple need and yes, while I seem to be quite strict with my diet, I always allot a few days for cheats especially when I'm in the mood for some pig-out-after-workout sesh.
Recently, I've discovered this relatively new restaurant that specializes on some of the world's famous comfort food – burgers, steaks, fries, nachos. Name your favorite, they probably have it!  This new restaurant is called Flambé and it is part of Malinao Food Park in Pasig (Geesh, food parks are everywhere!)
WARNING: I came right after gym so please do not judge my appetite.
Malinao Food Park is named after the place it is situated – Malinao St. When you walk into their food hub, you'll see real legit restaurants and not just kiosks and mini stalls of grubs.We arrived at around 6 PM because traffic in Pasig was really bad but good thing the food park has its own parking space and getting a free slot (at that time) was kinda easy.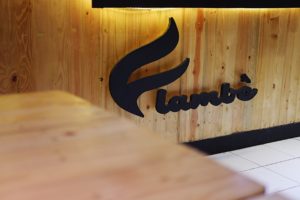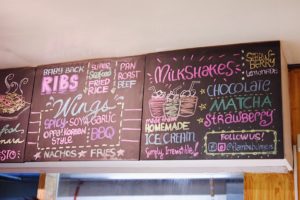 Flambé is quite a small dining spot but I must say that I'm really impressed with the whole lot. Their interiors are on point and the staff are really friendly. As soon as we entered the restaurant, we were immediately ushered towards a table and our orders were promptly taken.
I browse through their menu list and saw a bunch of interesting dishes and mind you, they are all very affordable. I was like a kid in a candy store because I literally can't choose – tasty burgers, great selection of pastas, wings, ribs and a number of sides. We decided to try their bestsellers and a few minutes after, we started our mini feast.
CHILI CON CARNE NACHOS (170 pesos)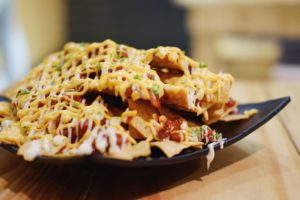 This Nachos + meat combo is the bomb. The cheddar cheese sauce and the mayonnaise complemented the whole mix and the nacho chips are really crunchy. This platter is really big and it's definitely great for sharing (around 3 to 4 people).
FLAMBÉ SALAD (150 pesos)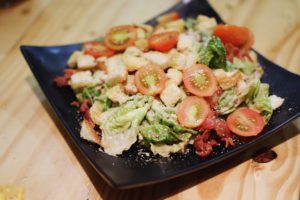 I love how this dish gives a perfect balance of meat and veggies plus it's topped with Flambé's signature roasted sesame dressings. It gives that kick of freshness and fullness without the guilt.
SEAFOOD MARINARA (99 pesos)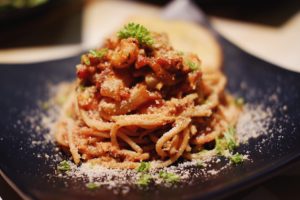 I am not a fan of red sauced pastas but this one broke the norm. I love the tender seafood meat (prawns and squids) and the marinara sauce just nailed it. It's sweet and a bit sour at the same time.
CHICKEN PESTO (99 pesos)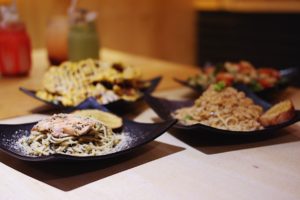 So this is definitely one of my faves. The pesto sauce is great and the pan seared chicken meat is cooked perfectly. It's a classic and I literally finished the whole plate in one snap.
SISIG CARBONARA (99 pesos)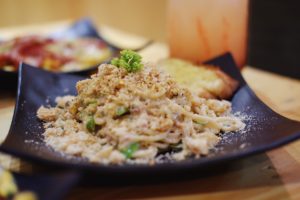 Whoever came up with this dish is definitely a genius. I never imagined mixing the usual sisig meal with carbonara but geesh, this one is to die for! This is a dish of cream and egg based sauce served with bacon and mushroom, topped with green chili, chili flakes, parmesan and crispy chicharon. I just love the crunchiness and the saltiness and the sweetness and all the TASTINESS of this dish.
TRIVIA: While waiting for our meal, we saw a number of customers ordering Sisig Carbonara for take out.
QUATTRO FORMAGGI (140 pesos)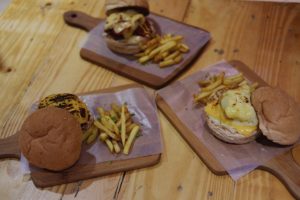 Flambé specializes on burgers. The beef patties they use are 100% quarter pound pure beef patty and no added MSG with real mayonnaise and fresh buns.
Now time to get cheesy because this one of a kind burger dish is made up of 4 (Quattro) types of cheese – Cheddar Cheese Sauce, American Cheddar Cheese, Herb Cream Cheese and Mozzarella Cheese. Everything just melts in the mouth and the patty is just so perfect.
PEPPERONI OVERLOAD (140 pesos)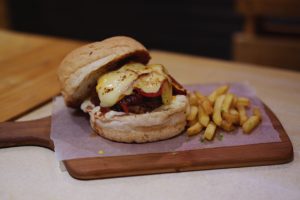 This is another unusual mix – pepperoni sausage topped with marinara sauce, cheddar cheese sauce and mozzarella cheese. It's like a pizza + burger in one bun and while the taste is quite odd, it is surprisingly delicious.
SALISBURY STEAK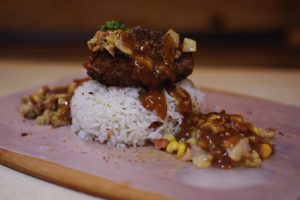 How can you say no to this? I promised myself not to eat rice after stuffing myself with too much pasta and burger but this Quarter Pound All Beef Salisbury Steak with Demi Glaze is just too tempting! The sauce is generally sweet and the burger patty is really huge. Of course, I love the presentation and the corn mix.
CHICKEN WINGS  (150 pesos/6 pcs)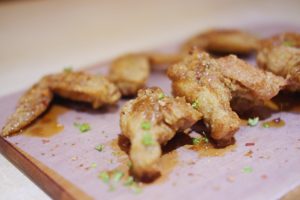 We got to try 2 flavours – the new caramelised chicken wings and the spicy chicken wings. Both are crunchy and cooked perfectly but I just wish there are sauces available as dips.
I particularly love the spicy flavour as it has that little kick (not too much) of spice.
BABY BACK RIBS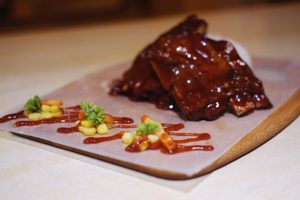 Holy broiled smoky ribs that are just so sweet and tender. It's a big cut of ribs and definitely good for sharing. It goes well with the broiled vegetables (boiled carrots and corn) and the ribs.
MILK SHAKES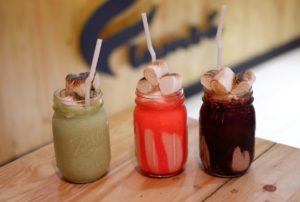 We got three flavours – Matcha, Chocolate and Strawberry and they are all good! The presentation is just instagrammable and the sweetness is just perfect.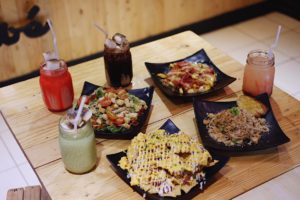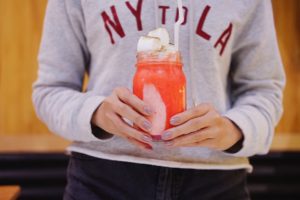 Overall, my dining experience at Flambé was superb. Good place, fast service and of course, excellent food. I'm trying to recall if I've ever eaten such good comfort dishes before anywhere in my life, and I am really coming up short. I certainly can't wait to be back and try the other stuff on their menu!
For more information, visit Flambé on Facebook and Instagram.
FLAMBÉ  •BURGERS•PASTA•WINGS•MILKSHAKES•
Malinao Food Park
F. Manalo St, Brgy. Malinao, Pasig City
Open 3:00-11:30 PM
Have you tried any other comfort food place in the past? Share it through the comments section below!
Xo,