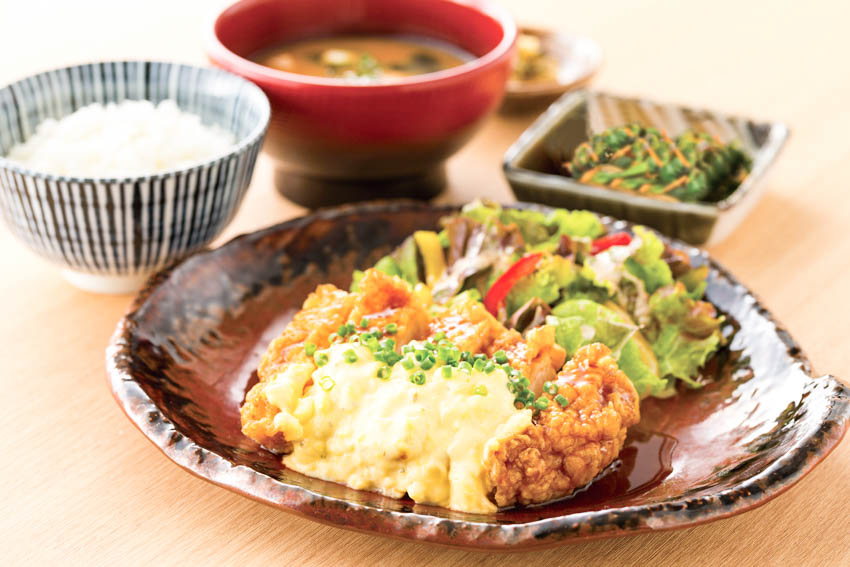 Review: Yayoi Japanese Teishoku Restaurant
Japanese food craving has been a huge trend in the country and this is the reason why a lot of Japanese restaurants and food hubs are currently on the rise. In Manila, many locals have joined the sushi, sashimi, teppanyaki and even the ramen noodle craze with everyone slurping, chewing and swallowing tasty dishes the way Japanese people do. Some have even ventured into the dessert niche with cheese tarts, crepe cakes, cream buns and everything matcha-infused confections served perfectly to satisfy the Filipinos' lust for sweets.
Hopping into this bandwagon is a recently-opened authentic Japanese restaurant called Yayoi (pronounced as yayo-ee) Japanese Teishoku. It opened last September 16 and it is the newest Japanese food place in town, located at the 3rd floor, Building B of SM Megamall in Mandaluyong.

Unlike the other popular Japanese franchises which only focus on specific, specialty dishes – a ramen bar, a katsu house, a sushi and tempura bar, Yayoi plays it different by taking inspiration from the wisdom of Japanese culinary tradition with its Teishoku-dining concept which means serving home-style set meals, consisting of a main dish of meat or fish, miso soup, a steaming bowl of rice, and side dishes of vegetables and tsukemono (Japanese pickles). At present, Yayoi has over 300 outlets located all over Japan, Taiwan, Singapore, Thailand, the United States, Australia and now, one in the Philippines.
Yayoi is a perfect fit for us Pinoys for two basic reasons. First, we love to eat set meals. A lot of us (or should I say all of us) don't get full with just a cup of rice and a single viand. I personally can't count the number of times I had to order a soup or a side dish just to complete my dining experience. Second is, we always think that rice is life, literally. We love pairing anything with rice and meals look and taste incomplete without it.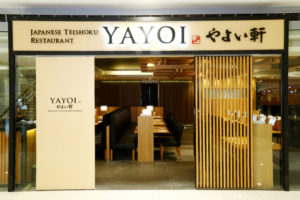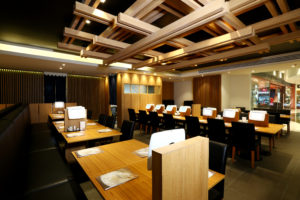 Atmosphere-wise, the new branch is an epitome of a grandiose urban dining haven. The interiors are modern with unmistakably Japanese aesthetics. The set up is very homey with warm lights, clean walls and wooden linings. The tables are big and the chairs are well-cushioned. There are separate tables for big groups and there are seats that are lined up in the middle, best for individuals who want to eat solo. It is also good that there is a complete pile of relish – spices, pepper on top of each table.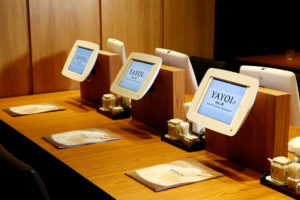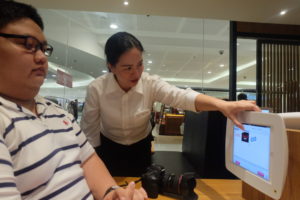 Hello Alexis from Fork Spoon Manila!
A very notable factor in this restaurant is the presence of (Ipad) tablet menus. Each seat has a digital touch-screen menu where orders are chosen and placed – all presented with names and photos. It also displays the order status, amount to be paid and a button if you need to call the restaurant service. The menu comes in English and Japanese versions. I personally think it's very efficient because aside from the fact that you get to see all photos of the food you wish to order, you also get a summary of your total bill and it also saves you from the hassle of calling the attention of the servers in case you need anything from them. There's also a normal, physical menu available for the non-techie ones.
One of my major concerns though is the lack of complete food profile in the menu. I think it would be better if the ingredients and all the other important details such as the kind of meat, the accent sauce, the style of cooking, the type of side dish and the soup and other significant information are also provided in the set. For someone like me who is not so much of a Japanese foodie, ordering for something I do not understand (and cannot even pronounce properly) is a challenge.
Of course, the servers are always ready to assist. They helped me in operating the tablet and choosing the best dish so suit my cravings. I asked them about the limited drink choices and they told me it's because they are on a testing period (soft opening) and assured me that more beverages will be available soon.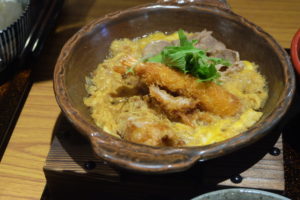 I ordered for a Chicken Namban Teishoku (395 pesos), a set that comes with chopped fried chicken that has been marinated in namban (soy vinegar) sauce, topped with tartar sauce. It also comes with other side dishes – lettuce, pickles and miso soup. My friend, on the other hand ordered Hitsumabushi (650 pesos), a bento set that includes grilled eel, rice and served with a side of dash broth and a fresh dab of wasabi.
The servers gave us small cups of green tea first, the usual tea that they serve for free in most Japanese places and sushi bars. I actually love it because it gives the experience that unique Japanese twist.
Food service is quite fast. Our orders arrived hot (and smoking) after almost 20 minutes of waiting. The server adviced us to be careful with food handling because the plates and bowls are still warm.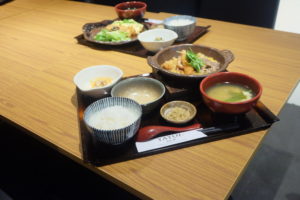 The entire platter was an astonishing view. Their serving is really big and the whole set is impressive. All the dinnerwares from the plates to the saucers and caps to the tray and even the soup spoon are authentic Japan-made. I feel like I wanna sit on the floor and savor that bento moment like a real Japanese lady.
The crunchiness of the chicken is superb. The combination of a flavourful marinated chicken and the tartar sauces produces a taste that is a combination of mostly sweet and savoury, but also comes in slightly sour. The chicken is fried but it is still juicy. I am not a fan of the other side dishes though because I find them really sour. The miso soup also tastes okay, a bit salty with some meaty, nutty tones.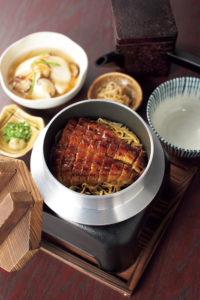 The Hitsumabushi meal is also mouthwatering.  The servers provided us with a guide card, containing a set of instructions on how we can eat the dish. Served Nagoya style, the meal can be enjoyed in three ways: the first is to taste the original flavour and eat the eel and rice meal as is. Next is to sprinkle the condiments, spring onion and wasabi over the rice and last is to pour the dashi broth all over. Dashi is a Japanese stock or broth, and it is a fundamental ingredient in many Japanese dishes. It is made from kombu (dried kelp), bonito flakes (dried and smoked skipjack tuna that is shaved into thin flakes) and anchovies/sardine (iriko or niboshi). We tried all the three techniques and I think the last one is the best, will a full tang, sweets and spices all mixed up, producing a really good dish. I loved how the Dashi broth created that savory umami taste, rich in flavours making the entire meal well-seasoned.
We were not able to finish both meals because they're really huge and overwhelming. I am not a rice person but I was able to finish almost 2/3 of my cup because the rice is perfectly cooked. I also enjoyed putting lots of chili powder on my dish.
Of course, we had to leave room for dessert. We ordered Ohagi (145 pesos).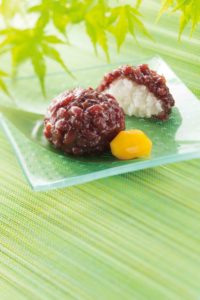 Ohagi, a kind of rice cake that is similar to our own suman but with red bean paste inside and azuki red beans outside. It is served with Hot Houjicha, another kind of Japanese green tea roasted in a porcelain pot over charcoal. Ohagi is a bit different from the normal Filipino kakanin because the real filling becomes the coating and the rice (a mixture ordinary rice and glutinous rice) is wrapped on the inside.
Overall, my Yayoi experience is good and satisfying. I find the food comforting with most meals topped with rice and savoury meat dishes. They also have lots of other good meals in the menu – from the usual Ton Katsu pork bentos, Sukiyaki Teishoku beef hot pots, Otaku Jyu simmered egg and chicken, Yayoi Gozen which is set filled with teriyaki salmon, pork cutlet and beef sukiyaki to green sides like Tofu Salad and Ontami Salad. They also have Niku Odon, a type of noodle soup that is topped with Sukiyaki beef and a slow-cooked egg. There are just so many filling dishes to choose from. I guess I'm ready to give up my sushi and sashimi cravings for these bigger alternatives.
The food selections are a bit pricey though, ranging from 400 to 800 pesos for a full set meal but I guess it's because target customers are those who are from the upper middle class section. Well, with the generous serving and the tasty, authentic dishes, I think the price is just enough to compensate the whole experience.
I'm giving it a rating of 8/10. Will I come back? Of course! But hopefully next time, traffic in Megamall is more bearable.
Check out Yayoi Philippines on FB: https://www.facebook.com/yayoiphilippines/?fref=ts and on IG: @yayoiph