Celebrate Good Food with Rinnai, No. 1 Appliance Brand in Japan
They say Filipinos are the best home cooks in the world. We can make good meals out of almost everything and we find happiness working on a lot of stuff in the kitchen. This is definitely true. Filipinos are certified foodies and this love for food is very evident in our usual home setting.
Blessed with an abundance of seafood, tropical fruits and creative cooks, people can generally say that our food defines our culture. As passionate chefs, we always want to make sure that we serve only the best dishes on the table. We want every ingredient fresh, every flavour balanced and all the other elements seasoned well. We understand that the value of of a home-cooked meal lies in the effort spent preparing it. Some people call it skill but for us, we call it love.
Yes, we are talented cooks and we can always be resourceful and practical however, we know that a good dish is better achieved not only with the finest ingredients but also with the best tools. This is where the precision of technology comes in.
Good thing we now have world-class tools in our turf. Rinnai, the no. 1 appliance brand in Japan since 1920, recently launched their newest products in the Philippines – tabletop stoves, hobs, cooking ranges, and range hoods – all made with superior quality and performance. The event was held at SM Megamall and was attended by renowned Filipino chefs and several members of the press.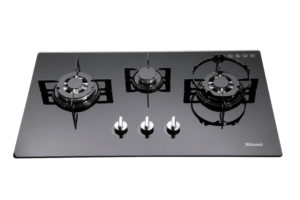 All RINNAI HOBS feature Sealed Burners to ensure that no chemical element spills, seeps in, and damages the electrical components inside. For its glass-topped hobs, Rinnai uses SCHOTT tempered glass from Germany that are created specifically to withstand heat and pressure.
The impressive line of Rinnai cooking appliances is for Filipinos looking to invest in a full kitchen set-up or outfit a newly-purchased home. As a purveyor of high-end, technologically advanced, and visually-appealing kitchen equipment, Rinnai makes it possible for today's homemakers to adopt the measured discipline professionals have with their cooking.
"Rinnai's innovation has me fully-equipped to serve my kids the meals they deserve," said Celebrity Chef Rosebud Benitez, who treated everyone at the launch with a cooking demo. "The technology really makes the difference. Not only does it elevate my craft, it's precision engineering makes working in the kitchen a breeze." Rinnai appliances are made under the premise that even the simplest of dishes require precision.

The suction motor of Rinnai's range hoods performs with less noise, is more energy efficient, and performs at par with two-motor hoods. Their RH-S23 series even has a turbo function
Award-winning pâtissier Chef Miko Aspiras attested to the kind of craftsmanship the Rinnai brand brings to the table. "Dessert-making is very visual. You delight people with the textures, the colors, even before they can respond to the taste," Chef Miko explained. "Coming up with the exact plating requires measure and precision. Rinnai's appliances help me do just that."
Rinnai's cooking ranges with Gas Ovens have thermostats that serve as safety devices. When the burner is accidentally extinguished, the thermostat reacts and shuts off the gas supply to the oven.
More than a kitchen appliance brand, Rinnai delivers the precision required to cook meals crafted to exceed even the most discerning of tastes. "Rinnai Philippines is proud to introduce a whole new range of kitchen appliances that will prove to be essential in the Filipino household," shared Mitsui Industria Corporation's General Manager John Chuakaw. "All our products come with a slew of exciting features designed to bring ease, comfort, and convenience to the Filipino's cooking practice."
RINNAI COOKING RANGE Models RFM-EE96MS-F and RFM-EE64MS-F have electric ovens that feature 9 functions. Aside from baking, grilling, and defrosting, these functions help in preparing complicated dishes with less time. They also have CATALYTIC CAVITIES that can absorb grease and reduces odors during cooking, making it easier to clean the oven cavity. Rinnai's line of free-standing cooking range is fitted with Sabaf® burners, the world's best in advanced burner technology.
In essence, a modern kitchen fitted with Rinnai appliances gives us the opportunity to celebrate good food by making sure our dishes served with both passion and precision. Certainly, nothing beats a good meal shared over good conversations with the whole fam and this is what Rinnai products are made for.