Starbucks Summer Launch: Enjoy this Season the Starbucks Way
For the nth time, Starbucks is making this season sunnier and more exciting with the introduction of new drinks and promos! Last April 8, the Starbucks team formally rolled out their summer campaign at the SM Mall of Asia Atrium. Tagged as the Starbucks Summer Launch 2017, the event was filled with exciting activities, Starbucks merchandise booths, fun games and a lot more!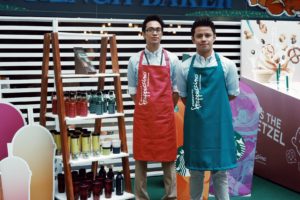 The launch was attended by several media members, bloggers and Starbucks patrons. All of us who joined got the opportunity to visit different game stations, earn stamps (and prizes) and get rewards at the end of the adventure. There were booths that required us to take snaps, shoot popcorn pillows and show our creativity.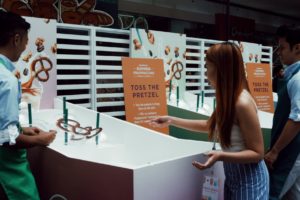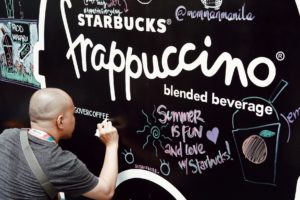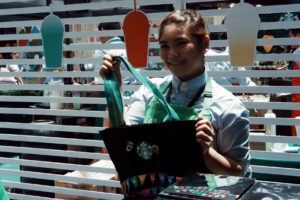 THE BEVERAGES
While the "lampa" me didn't get a chance to nab the little prizes from each booth, I must say that having the privilege to taste the Pop'Zel Coffee Frappuccino, before it's even printed on the Starbucks menu, is a total WIN! Popcorn and Pretzel in one drink? God, every sip just delights the child in me! Plus the fact that this drink is just beautiful. You'll be quite confused if you want to photograph it first or just sip it (right away).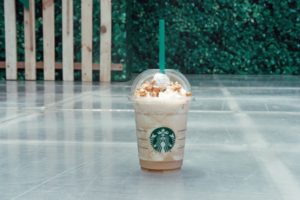 Aside from Pop'Zel, Starbucks is also bringing back an old-time fave, the Roasted Marshmallow S'mores Frappuccino® Blended Beverage. Flavored with vanilla, layered with smooth marshmallow whipped cream, indulgent chocolate sauce, and graham crumble, this delicious concoction is finished with whipped cream and more graham crumble on top.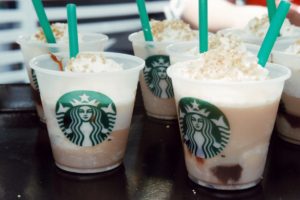 Both flavors will be available in Tall (P175), Grande (P190), and Venti (P205) and will be served in stores for a limited time only starting April 18.
THE FOOD
Of course, the Starbucks menu won't be complete without food! For this season, the brand prepared a lineup of mouthwatering dishes best for anyone who wants to get full and happy.
Perfect for snack or even light lunch is the Roast Beef Deli on Ciabatta Bread (P165).
This dish is composed of slow-roasted beef, sliced button mushrooms, sweet and tangy sliced pickles and horseradish spread, layered on toasted rosemary ciabatta bread.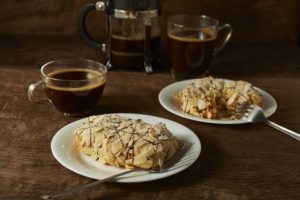 Those who are on the sweeter side may try the Banana Chocolate Danish (P95), a flaky pastry abundantly filled with chocolate and banana, and topped with slivers of almond.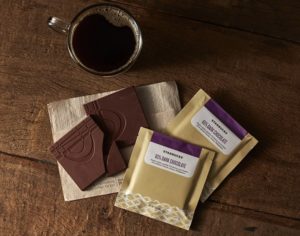 A new ready to eat dish is the 65% Dark Chocolate (P70), a single-origin chocolate bar with a distinct fruity flavour profile.
And here's a more fun part – desserts!
The new cheesecake variants – Camembert and Mascarpone Blueberry Cheesecake (P165) and Camembert and Mascarpone Cheesecake (P165) are budding crowd favorites.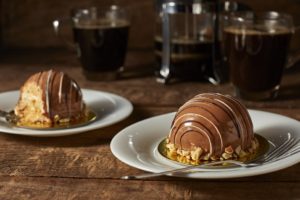 I'm also a fan of the new Caramel Almond Crunch Moist Cake (P160) because comm'n, who doesn't love almonds and caramel glaze?
THE NEW STARBUCKS CARDS
Starbucks is also releasing summer-themed cards and this is something you should not miss. There's the tropical Starbucks Frappuccino die-cut cards in new colorways (available for an initial activation fee of P1,000) and the Stay Cool card (available for an initial activation fee of P300).
STAR BUCKS EARTH DAY PROMO
For Earth Day, customers can buy a Starbucks Night Sky Reusable Cup for P100 on April 21 and 22 with every purchase of a Grande handcrafted beverage. Customers can also get a 10% discount on any merchandise with every purchase of a Grande handcrafted beverage.
There is no limit to the number of Night Sky Reusable cup or merchandise at 10% off that customers can purchase as long as the required number of Grande handcrafted beverages will be purchased.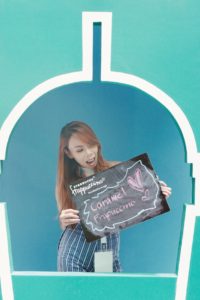 And that's about it! I don't know what's with this brand but every time I attend a Starbucks event, I always end up in bliss (okay, that's a bit exaggerated) but honestly, Starbucks never fails to surprise me.
Thank you, Starbucks Philippines for having me as part of your official Summer Launch. The new drinks and dishes are home run victors!
PS. Thanks also to my co-bloggers turned playmates – Klyde and Patty! You are the best coffee buds ever.