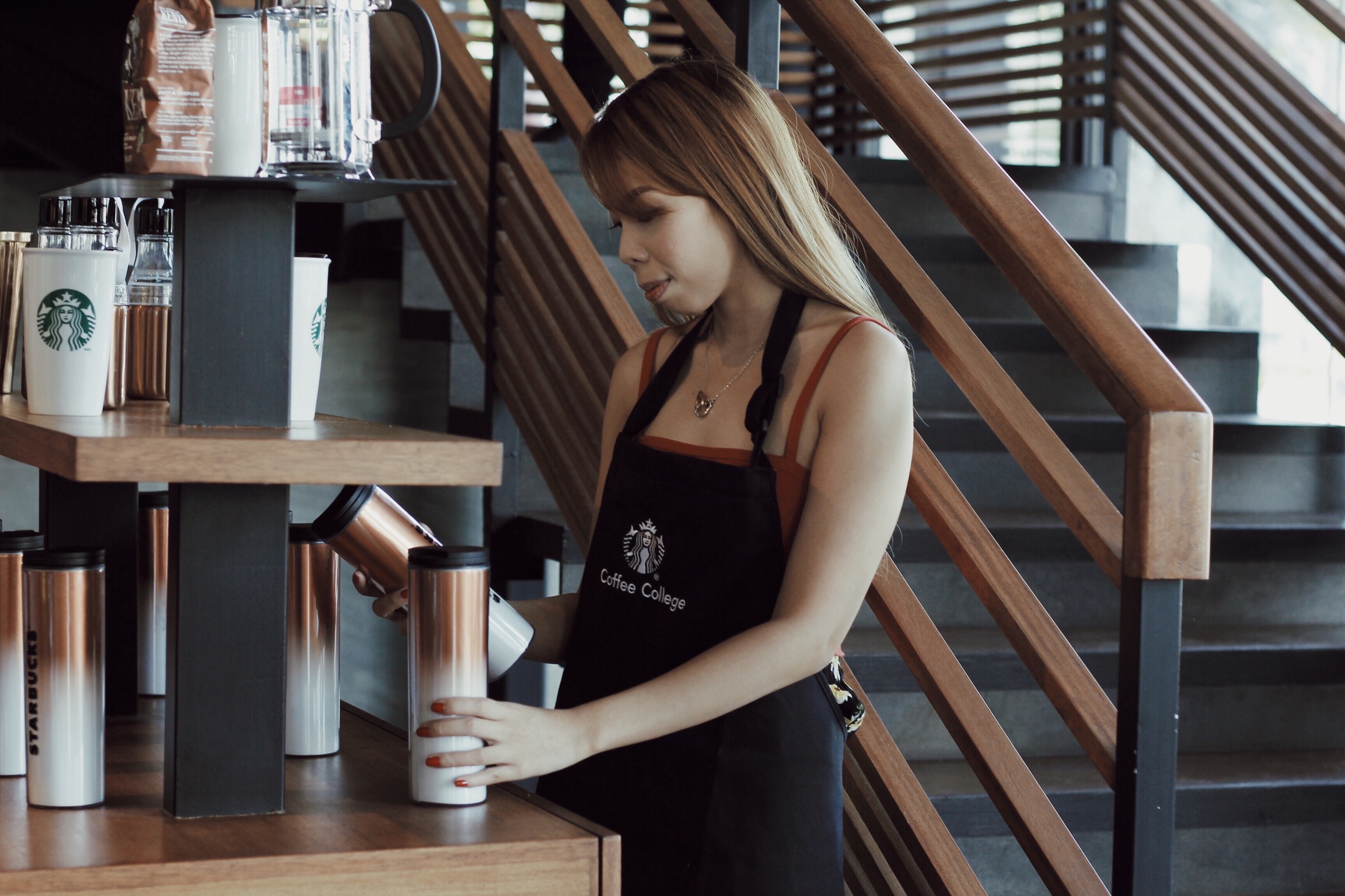 Two More Reasons to Love Starbucks
Coffee lover? I got you. But first, here are two reasons why you should visit a nearby Starbucks store ASAP.
Note: Read on, a hefty coffee giveaway treat awaits you.
1A. You're coffee takes a lot of work.
1B. You can pair coffee with any all kinds of dishes
I used to think that coffee-making is an easy task. Like you have to plant and harvest some beans, grind them using a machine or process them using a coffee press and voila, you get some powdered flavour ready for consumption. Well not until last month when I got the chance to be my own barista.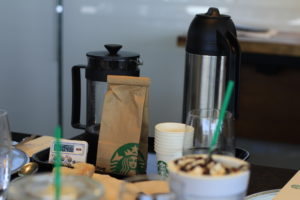 Hello, I'm a Coffee Master. Oops, just kidding!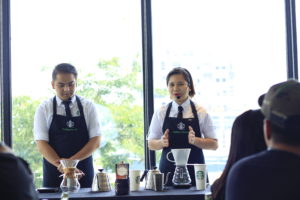 A few weeks ago, I got the opportunity to join Starbucks Coffee College, an immersive coffee journey that took me through the diverse flavors of coffee and the different ways to make it. The goal was for us (bloggers and media participants) to experience a different kind of food pairing – coffee paired with every dish in a four-course meal. Alongside the experience was bits of learning about coffee, the fundamentals of brewing and the different machines and techniques in producing a brewed drink.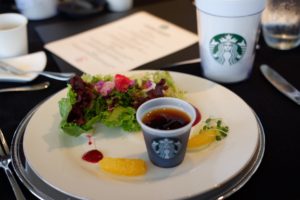 I know pairing coffee with a full course meal sounds odd. Imagine a citrusy-fruity entree, Petite Mesclun and Raspberry Salad, paired with Starbucks Cold Brew Coffee? I was kinda hesitant at first but surprisingly, I enjoyed every bit of this combo. The strong kick of coffee complements the sweet and sour notes of this dish and every layer of the salad mixes well with the bitterness of the drink.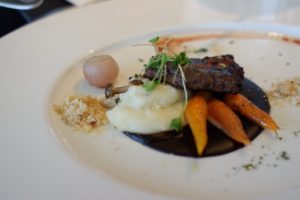 We were also served with a sumptuous entree – Sous Vide Angus Beef with Almond Gouda Crumbs, paired with the Starbucks Kati-Kati Blend. The dish featured a beef laid on top of a dark chocolate demi-glace – yup, some real, glorious CHOCOLATE sauce served like a steak gravy partnered with a strong brewed coffee.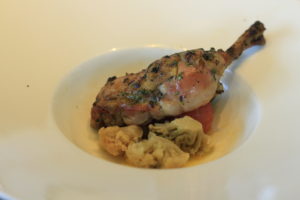 Next, we had Grilled Cilantro Chicken with Lime Beurre Blanc, paired with the Starbucks Reserve Rwanda Musasa. I was kinda proud because I made the blend for the whole table using a Pour Over Cone brew. I measured some stuff, placed a paper filter, poured hot water, extracted the flavour and so on. It sounds pretty easy but it's not. It requires some chemistry talent plus a lot of patience.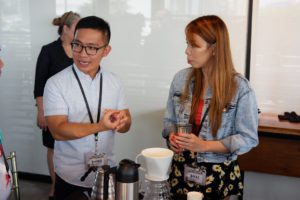 Another member of our group made use of the same beans but with a different technique. He used a machine called Chemex which required a lot of measurements and precision as well.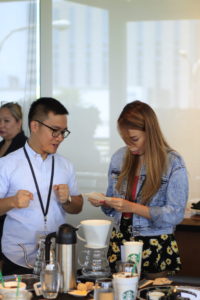 So we had two drinks with the same raw ingredient, processed differently and taste differently! There's a clear distinction between the two. The Pour Over Cone product is a little bright and sour-ly but the one Chemex coffee is bolder and stronger.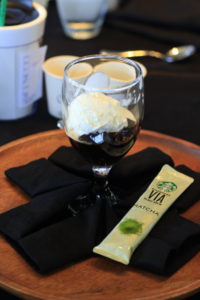 Of course, the experience wouldn't be complete without a dessert. We were served with a Starbucks VIA Italian Roast Topped with Vanilla Ice Cream. We were also given sachets of Starbucks VIA Matcha (YES, MATCHA HEAVEN) to pour over the ice cream and I devoured everything in a snap. Yes, it was that good and I really wish I had more.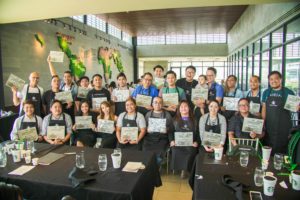 All in all, this "Back to (coffee) school" experience was both refreshing and fun. I enjoyed the food, the learnings and the company of fellow bloggers and coffee enthusiasts. We also had a mini graduation and we were given diplomas and that kinda sealed the deal. I guess I can be a barista soon but for the meantime, I have to review my Chem formulas first.
2. Starbucks Unveils Two New Drinks (and they are more than Instagram-worthy).
I know we all have our favourite Starbucks drinks. It can be that coffee jelly blend or a latte or some strong cappuccino. We got that staple drink that perfectly matches our taste buds.
On the other hand, I'm the person who's kinda experimental. I've mentioned before how I love Starbucks' Caramel Frappe but I love trying other flavours as well. The Banana Split Mocha Frappuccino became my instant favourite when it was released last June while the Pop'zel Coffee Frappuccino easily filled in my summer craving.
Last July 25, Starbucks released two new drinks, the Açai Mixed Berry Yogurt Frappuccino and the Granola Dark Mocha Frappuccino.
Being the keen kid that I am, I immediately went to Starbucks to try them and here's my take on both drinks.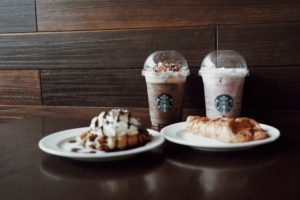 I'm a big fan of yogurt so I love how the Açai Mixed Berry Yogurt Frappuccino is both refreshing and milky. It combines Açai berry-infused yogurt with bursting pearls and distinct notes of mixed berry, finished with light and creamy milk foam.
On the other hand,  the Granola Dark Mocha Frappuccino blended beverage is a marriage of Starbucks Coffee Frappuccino with rich, chocolate flavors and a tasty blend of hearty cereal. It is topped with creamy milk foam, sprinkled with a generous topping of crunchy granola and chunks of mixed fruits.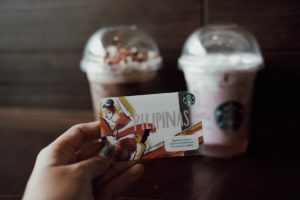 So I got a pink drink and a brown drink, both very distinct but are equally tasty, not to mention, instagram-worthy. Here's the new Starbucks card too!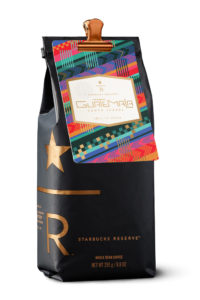 Starbucks also prepared blends that are perfect for this rainy season. The Starbucks Africa Kitamu gives a wonderful introduction to the bright and juicy flavors that define coffee from Africa. This blend is perfect whether served hot or over ice and is made by combining East African beans that are known for their refreshing citrus and floral flavors. Starbucks Reserve Guatemala Santa Isabel, on the other hand, is distinguished by fragrant aromas and pronounced sweetness with notes of tamarind, caramel, and chocolate. For those looking for coffee with sweet herbal spice notes, Starbucks Reserve Eastern D.R. Congo Lake Kivu is the one you're looking for. Its orange acidity, also makes each cup more compelling.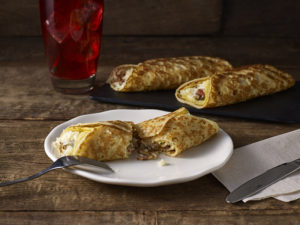 Of course, the season offers wouldn't be complete without the meals. For some savoury feels, there's the Bacon and Mushroom on Dutch Crepe, a sweet Dutch crepe filled with honey cured bacon and sliced mushrooms. Tuna lovers will also love the new Tuna Dill on Whole Wheat Bread, which has tuna flakes, mozzarella cheese, and sliced hard-boiled eggs served on whole wheat bread.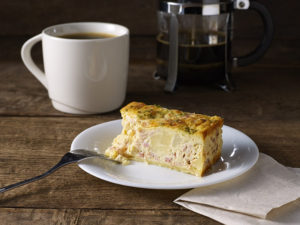 There are perfect breakfast choices too. The Ham and Cheese Frittata is a combination of potatoes, eggs, ham, and cheese while the Cheese Danish is a buttery and flaky pastry filled with creamy cheese. Both are hearty, filling choices perfect for the early morning grind.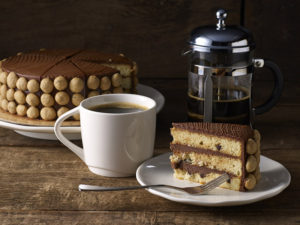 Starbucks also has prepared a line of desserts to complement every drink. The Belgian Chocolate Chip Cake is a returning favorite, a meal made with layers of vanilla sponge cake with chocolate chips, milk chocolate ganache, and frosted Belgian milk chocolate with mini chocolate chip cookies on the sides.  Starbucks is also serving up a beloved Italian dessert with its own take on Tiramisu, sponge cake soaked in Starbucks Coffee, layered with a light and airy filling made from mascarpone, egg yolks, and cream.
Lastly, remember that all these blends and meals will be offered for a limited time only. So I guess you already know the drill?
Now that I got you enough reasons to visit a nearby Starbucks store ASAP, here's a simple treat for you.
Win two tall  complimentary drinks voucher, a Starbucks pen and a tumbler when you follow these simple (giveaway) steps.
Follow @shairahabon and @starbucksph on Instagram
Comment on this blog post (I wanna know your thoughts on the new Starbucks drinks and/or the Coffee College)
Comment "Done" on my Instagram post featuring the two new Starbucks drinks.
Winners will be announced August 12.
Good luck and remember to make your coffee game strong!